Running in the snow
Got quite a lot to ramble on about in this post, as what started out as a quiet week has snowballed...
The snow that brought the country to a halt last week, had the opposite effect on my training.
Being freelance, working from home wasn't an option, so I had to get into London. With 2 out of 3 trains cancelled and the remaining 1 like a cattle truck, there was no option but to pull the trainers on and get running!
5 miles, each way, between major stations, has brought my weekly mileage instantly up to 50 miles, not including weekends. I can't help smiling as I run over snow and ice, whilst around me other people scrape their cars and huddle together queuing for buses. What has surprised me is how much I'm enjoying these runs - long may they continue.
Add to this, 2 swims, a couple of Turbo sessions and some core work and it's been a pretty good week.
Core-wise I've now finished Week 3 sessions of both 100pushups and 200situps and feeling the benefits already. Week 4's gonna be tough, as it increases now to around 140 situps and pushups per session.
I may look like I'm going potholing but it's all good training for long distance next year - more on that next time.
Not bad for someone who couldn't get out of bed 2 weeks ago!
The 6am acclimatisation plan worked. :)
Just don't call me Wheezy.
Something that else that has started to slot into place is my swimming.
Definitely my weakest discipline and something I have struggled with for the last 2 years - even resorting to video analysis, which was just painful to watch!
The recent core work, some key advice and positive feedback from club coaches has really moved it along.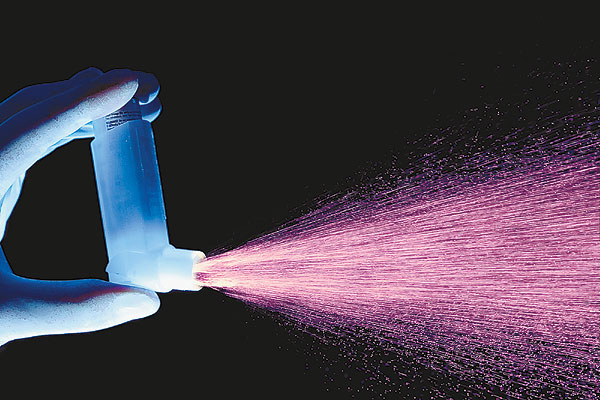 What was frightening though was a recent session at school-owned pool: gasping for air, light headed, eyes streaming as if I'd been maced. Previously, I was so bad at a recent middle distance that I was fished from the water when my airways began to swell!
An allergic reaction by any definition, methinks...
It's started to make sense. Why I can't progress as fast as I should, and its not just technique. 4 lengths into any set (that isn't easy) and I'm into oxygen debt, purely because I'm reacting to the chlorine (or other water particulates). My heart is pumping faster but there isn't enough oxygen getting into the blood. So I've gone back to the inhalers, previously prescribed for recurring chest infections, which I now think may have been set off by 'that' pool: the blue ventolin, followed by the brown steroid. I've only done one swim with them but could feel the difference past 6 lengths (35m pool).
I hate the idea of medicating myself to do this but if it helps me breathe and reach my goals then so be it.
I'm going to try and get a Doctor's appointment sorted before Christmas to talk it through a bit more, but from what I've read, I could end up with the Red allergy inhaler as well! Bloody hell.